Purina Beyond cat food has been gaining popularity among cat owners for its claims of using natural and high-quality ingredients in its products.
As a cat owner, you might be considering this Purina brand for your furry friend, and it's important to get acquainted with its range of offerings and what sets it apart from other brands.
In this unbiased Purina Beyond cat food review, we will unveil the truth about this Purina brand and whether it is a good choice for your cat.
Providing an in-depth review of Purina Beyond is what we aim for in this article.
We'll assess the species-appropriateness, product variety, price, customer experience, and recall history of this brand, as well as draw comparisons with other cat food brands in the market.
Our objective is to give you the information you need to make the best decision for your cat and hopefully find a product tailored to their needs.
Key Highlights
Purina Beyond claims to use natural and high-quality ingredients in its cat food products.
This review will cover aspects like species-appropriateness, product variety, and customer experiences.
Comparison with other brands and market positioning will be analyzed to help you make an informed choice for your cat's nutrition.
Assessing Purina Beyond: The CatAndDogHelp.com Criteria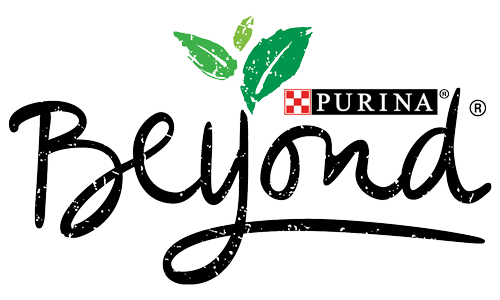 1) Species appropriateness
First, we wanted to assess its species appropriateness for our feline friends.
We gave Purina Beyond an 8 out of 10 in this category because it's designed with cats' specific needs in mind, offering real meat or fish as the primary protein source.
The reassuring part is that Purina Beyond's formula is overseen by in-house nutritionists, ensuring your cat gets precisely the right balance of nutrients they need
2) Quality of ingredients
Next up, we looked at the quality of ingredients, and it didn't disappoint.
Purina Beyond gets a perfect 10 for using natural, traceable ingredients and no artificial preservatives, colors, or flavors.
Beyond cat food focuses on natural ingredients and traceability, with most ingredients sourced from North America and carefully chosen by trained pet nutritionists.
They responded to the increasing demand for natural pet food options, so it's no surprise that it's made with added vitamins, minerals, and nutrients to keep your cat healthy
3) Product variety
Now, let's talk about product variety. Scoring an 8 out of 10, this brand offers various flavors and textures, such as wet and dry food options, to suit your kitty's preferences.
They offer limited-ingredient recipes, USDA organic options, and even mixers to support your cat's digestive and immune health.
Not to mention that their Grain-Free Cat Food is known for being well-balanced, with premium ingredients like real ocean white fish, chicken meal as the second ingredient, canola meal, and essential minerals.
Additionally, their ingredient list is transparent and includes information on key ingredients such as beef fat and natural liver flavor for improved palatability.
4) Price
Moving on to price, we rated Purina Beyond a 7 out of 10. You can easily find it at a reasonable price without sacrificing quality. Sounds like a good deal, right?
For a 10-lb cat, Beyond's dry food costs roughly between $0.34 and $0.42 per day.
If you prefer going the wet food route, Beyond WILD wet recipes would amount to around $3.63 per day, while their Grain-Free line would be closer to $3.09 per day.
As you can see, it's quite a moderately-priced brand that won't leave your wallet empty.
5) Customer experience
When it comes to customer experience, we've seen many favorable reviews, leading us to give Purina Beyond an 8 out of 10 in this category.
Cats seem to love the taste, and owners appreciate the natural, nutritious recipes.
6) Brand's recall history
Finally, we looked at the brand's recall history.
Purina Beyond cat food has not experienced any recalls, although other Purina brands have faced multiple recalls. Given that they are produced in the same facilities, there's a possibility that recalls impacting other Purina brands could also affect Purina Beyond.
Purina Beyond garners a 7 out of 10.
Putting it all together, Purina Beyond scores an impressive 7.8 out of 10.
This cat food looks promising, and it's definitely worth considering for your feline companion.
What Do Customers Think of Purina Beyond Cat Food?
So, you want to know what people are saying about Purina Beyond cat food?
No problem! Here are a few testimonials from users who have tried the product with their feline friends:
"My picky eater loves the grain-free option. Purina Beyond has become her favorite dry cat food."
"I switched to Purina Beyond for my cat who had digestion issues, and it's made a significant difference. Highly recommended!"
"The variety of flavors in Beyond's wet food line keeps my cats excited for mealtime."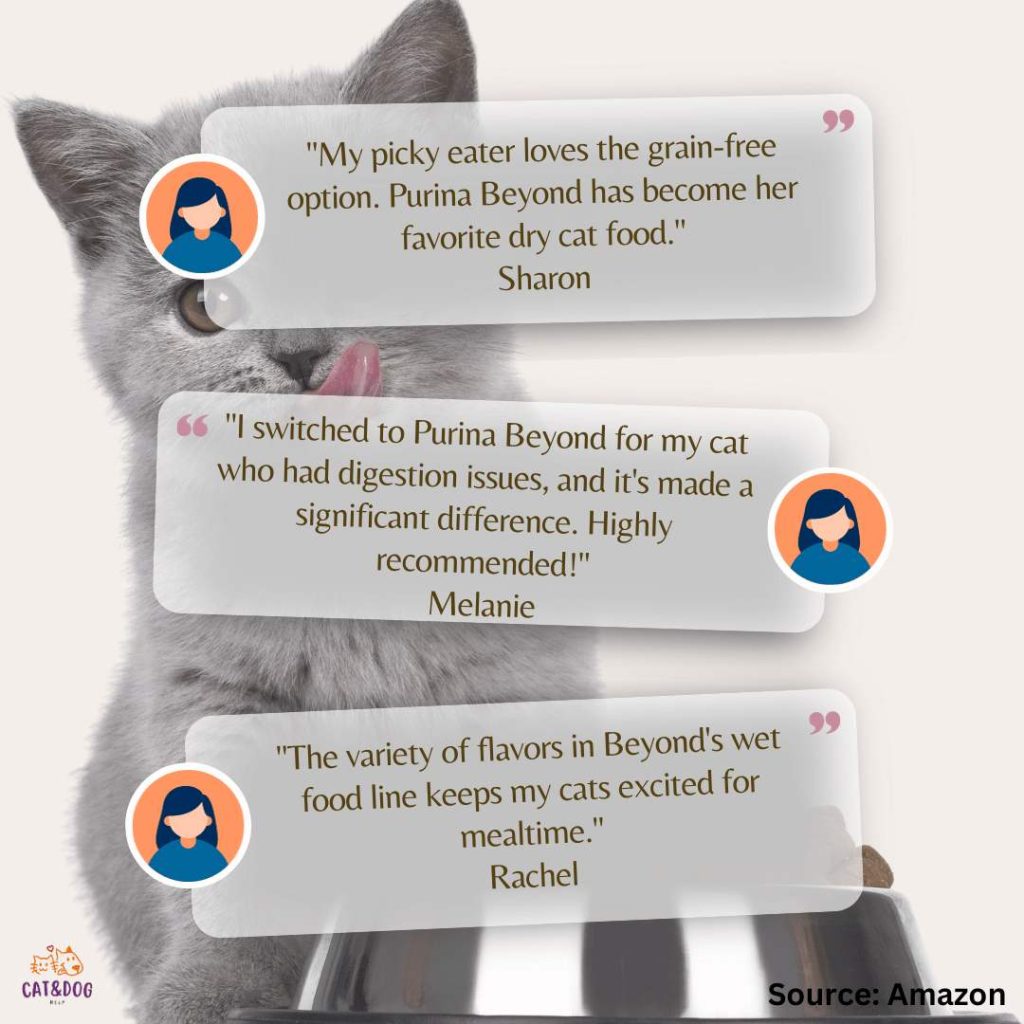 Positive Reviews
Purina Beyond has its fair share of positive reviews. Users are particularly satisfied with the brand's focus on high-quality, natural ingredients.
They also appreciate the traceability of the ingredients used in the product, which is essential for those who want to ensure their cats are eating the best possible food.
Better Ingredients: First ingredient is chicken, not corn, indicating higher quality ingredients.
Grain-Free: Beneficial for cats with grain sensitivities or allergies.
Palatable: Many cats seem to enjoy the taste, even picky eaters.
Improved Digestion: Reviews mention smaller stool and less vomiting, indicating better digestion.
Healthier Coats: Some reviews noted softer, shinier coats after switching to this food.
Variety of Flavors: Available in both chicken and fish flavors, providing variety for cats.
Negative Reviews
While many users are happy with Purina Beyond cat food, it is essential to look at the not-so-positive side as well.
Price: Pricier than some other brands, but buyers mention it's worth the cost for the quality.
Availability: Not always easily found in local stores, though available online.
Kibble Size Change: Some reviews noted a change in kibble size which may not be favorable for all cats.
May Require Transition: Transitioning too fast to this food might cause issues for some cats.
Smell: One review mentioned a stronger smell, although this was resolved by switching flavors.
Not All Cats Like It: Like any food, not every cat will like the taste.
In the end, it's all about finding the right fit for your cat.
Make sure to consult with your veterinarian and monitor how your furry friend reacts to the cat food.
Top 3 Purina Beyond Products Analyzed
#1 – Purina Beyond Grain Free, Natural Pate Wet Cat Food, Grain Free Pate Variety Pack – (2 Packs of 12) 3 oz. Cans
Purina Beyond Grain-Free Pate adult wet cat food variety pack offers a range of natural recipes featuring real chicken or fish, aimed at providing a wholesome meal for your cat.
The inclusion of wholesome vegetables adds a healthy touch to these tasty recipes, without any artificial additives.
The emphasis is on natural ingredients and essential nutrients to ensure a balanced meal for adult cats, aligning with the theme of getting back to nature.
The variety pack not only brings a spread of flavors to keep your cat interested but also the convenience of ready-to-serve cans, making mealtime easier and enjoyable for your furry companion.
Check Best Price
Pros:
Improves Digestion: Helps with digestive issues in older cats.
Boosts Appetite: Especially appealing to picky eaters.
Enhances Coat Quality: Results in softer, shinier fur.
Good for Sensitive Stomachs: Suitable for cats with sensitive bellies.
Grain-free: Beneficial for cats with grain sensitivities.
Multiple Flavors: Variety of flavors keeps cats interested.
Weight Gain: Helps underweight cats gain some pounds.
Cons:
Premium Price: Priced higher compared to other brands.
Availability: Often out of stock, hard to find.
Can Cause Vomiting: Some cats experienced vomiting.
Dented Cans: Some cans arrive dented.
Important Ingredients:
Real Chicken or Fish: Primary source of protein.
Wholesome Vegetables: Adds fiber and essential nutrients.
Grain-free formulation: Suitable for cats with grain allergies.
Food Form: Wet Cat Food (Pate)
Life Stage Recommendation:
This cat food seems to be beneficial for adult and senior cats, especially those with digestive sensitivities, picky eaters, or cats that need to gain weight.
#2 – Beyond Grain Free, Natural Dry Cat Food, Simply Grain Free Wild Caught Whitefish & Cage Free Egg Recipe – 5 lb. Bag
Purina Beyond Simply Grain Free Wild-Caught Whitefish and Cage-Free Egg Recipe is a natural dry cat food formulated for adult cats, enriched with added vitamins, minerals, and nutrients.
The formula, created with high-quality ingredients, features wild-caught whitefish as the primary ingredient, alongside cage-free eggs and sweet potato.
This gluten-free, high-protein cat food also contains natural probiotics to support digestive health, ensuring a well-rounded, balanced nutrition for your cat.
It can be served alone or mixed with wet cat food from the Beyond line for a more varied meal.
Check Best Price
Pros:
High-quality ingredients: Primary ingredients are ocean whitefish and chicken meal.
Grain-free formula: Suits cats with grain sensitivities.
Improves coat and skin condition: Noted to make coats shiny and skin healthy.
Digestion friendly: Smaller stool size indicates better digestion.
Variety in flavors: Offers chicken and fish flavors for finicky eaters.
Appetizing to cats: Many cats seemed to enjoy the taste.
Affordable: More cost-effective compared to other grain-free brands.
Cons:
Some undesirable ingredients: Contains pea protein and pea starch.
Requires transition: Switching suddenly may cause digestive upset in some cats.
Packaging concerns: No mention of resealable bags for freshness.
Not easily available locally: Some users reported difficulty in finding it in stores.
Important Ingredients:
Main Proteins: Ocean Whitefish and Chicken Meal
Carbohydrates: Pea Starch, Cassava Root Flour
Fiber: Pea Fiber
Fats: Beef Fat preserved with Mixed-Tocopherols
Vitamins and Minerals: Taurine, Vitamin E Supplement, Zinc Sulfate, etc.
Food Form: Dry Kibble
Recommended Life Stage:
The reviews indicate that the food is suitable for adult cats, particularly those with grain sensitivities or digestive issues.
Some users also mentioned it worked well for their older cats and for cats with sensitive stomachs.
#3 – Purina Beyond Grain Free Gravy Wet Cat Food, Grain Free Turkey Recipe – (12) 3 oz. Cans
Serve your cat the Purina Beyond Cage-Free Turkey, Sweet Potato and Spinach Recipe in Gravy, a wholesome wet canned food crafted with real, recognizable ingredients.
This high protein meal features real cage-free turkey, alongside accents of sweet potato and spinach, without any artificial additives, corn, soy, or poultry by-product meal.
It's not just nutritious but also caters to picky eaters, ensuring your feline friend enjoys a tasty meal while receiving the essential vitamins, minerals, and natural prebiotic fiber for a healthy, fulfilling life.
Check Best Price
Pros:
Non-GMO Ingredients: Reduces carcinogenic risks.
Omega-rich fish: Promotes heart health.
Mixes well with dry food: Enhances meal variety.
No offensive odors: Pleasant for cat owners.
Affordable compared to other brands: Budget-friendly.
Variety in flavors: Catering to picky eaters.
Improved bowel movement: Good for digestion.
Cons:
Low protein content: May not meet all nutritional needs.
Some cats disliked the flavor: Preference varies.
Tiny chunk consistency: Not all pets enjoyed.
Not all pets like the wet food form: Preferences vary.
Most Important Ingredients:
Turkey, Chicken, Liver: Protein sources.
Sweet Potato, Spinach: Vegetable nutrients.
Dried Egg Whites, Dried Egg Product: Additional protein.
Taurine: Essential amino acid.
Vitamins and Minerals: Essential for overall health.
Food Form:
Wet food with tiny chunks and gravy.
Recommended Lifestage:
The product is likely suitable for adult cats and dogs, especially those with sensitivities or specific dietary preferences.
The Omega-rich ingredients could be beneficial for older pets with heart health concerns, while the easy-to-digest form and improved bowel movement mentioned might aid pets with digestive issues.
Moreover, the food could also be a suitable choice for pets with dental issues or those who prefer wet food to kibble.
However, due to the low protein content, it might not be suitable for growing kittens or puppies or highly active pets that require a protein-rich diet.
Species-Appropriateness: What Is It? and Why It's Important?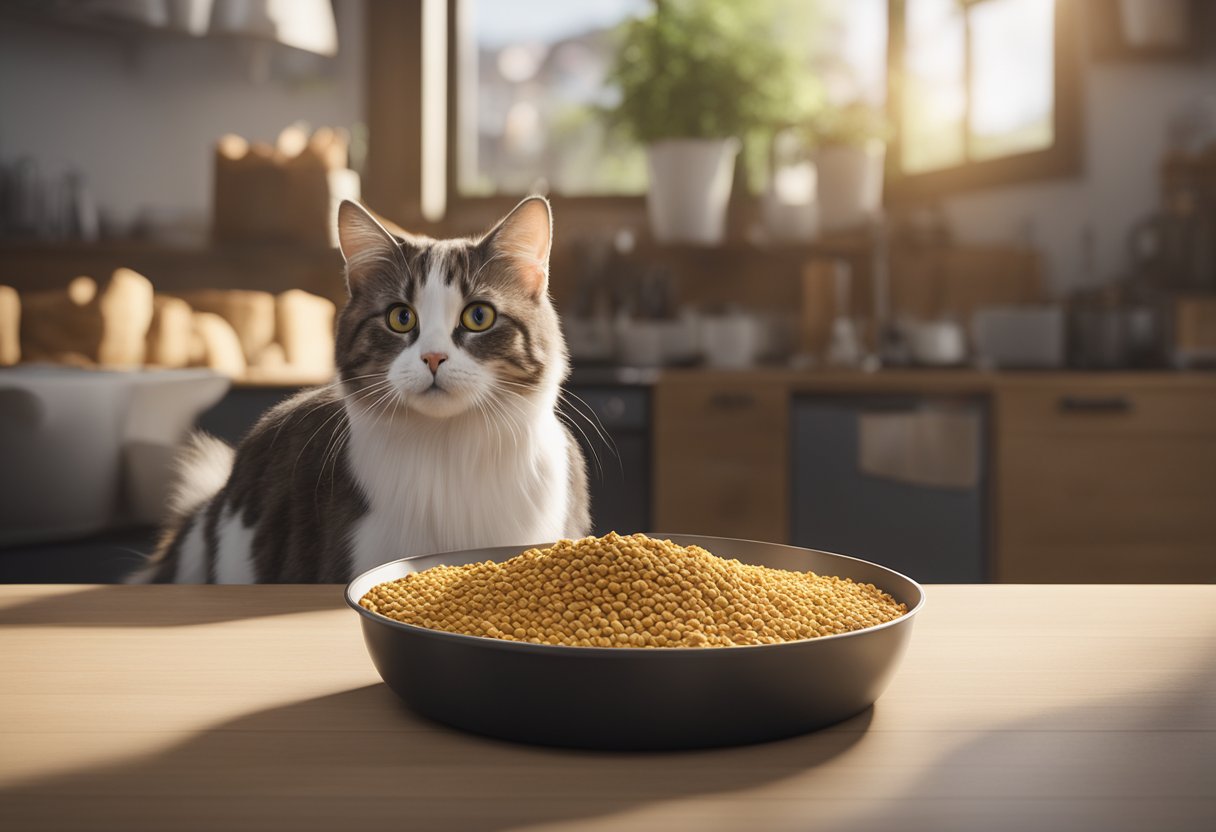 When it comes to evaluating cat food, it's important to consider the species-appropriateness, which means the extent to which the ingredients in the food match the nutritional needs and dietary preferences of cats.
Evaluating Purina Beyond Dry and Wet Cat Foot
Cats are obligate carnivores, meaning they require a diet high in animal-based protein sources.
Purina Beyond offers both dry and wet cat food varieties that aim to meet this need.
Their products emphasize natural ingredients and traceability, ensuring you know the origin of the ingredients your cat is consuming.
Purina Beyond Dry Food
In terms of dry cat food, Purina Beyond provides several options with high-quality protein sources, such as fish or poultry, as the first ingredient.
While dry food may contain more carbohydrates than wet food, Purina Beyond focuses on selecting grain-free formulas.
Why & when having grain-free formula is important?
It can be a plus for those looking to minimize their cat's carbohydrate intake and ensure the absence of potentially harmful additives like yeast.
This emphasis on species-appropriateness and ingredient quality, including cassava root flour, makes Purina Beyond stand out as one of the best brands in the Purina family.
Purina Beyond Wet Food
Now, let's turn our attention to Purina Beyond's wet cat food selection.
Wet food is an excellent choice for cats who require additional hydration, as it contains more moisture than dry food.
Purina Beyond's wet food options also prioritize high-quality proteins and natural ingredients, making them suitable options for your cat's dietary needs.
However, it's important to remember that each cat is unique, and the best choice in pet food for one cat might not be the same for another.
That being said, Purina Beyond's various formulas and product options cater to a range of dietary needs, making it easier to find the right food for your cat.
Purina Beyond Ingredient In-depth Analysis
Ingredient Quality
When it comes to feeding your cat, it's important to choose a cat food that is made from high-quality ingredients.
Purina Beyond cat food emphasizes on natural ingredients to ensure a healthy and well-balanced diet for your feline friend.
This brand sources various proteins such as chicken, chicken meal, salmon, beef, and turkey to provide a robust protein profile.
They also include nutrient-rich vegetables like sweet potatoes, peas, spinach, and carrots.
While there is no specific information for the cat food recipes, Purina states that the chicken meal in their dog food is steroid-free and contains no feathers, heads, feet, or intestinal contents.
This commitment to ingredient quality is evident in both their cat and dog food products.
List of Ingredients
Purina Beyond cat food offers a variety of ingredients to cater to different dietary preferences and requirements. Here's a list of common ingredients found in their cat food:
Protein sources: chicken, salmon, beef, turkey
Grains and carbohydrates: rice (avoiding corn, wheat, and soy)
Vegetables: sweet potatoes, peas, carrots
Additional ingredients: chicken meal, beef fat, egg product, pea starch, pea protein
It's worth noting that Purina Beyond cat food does not contain artificial colors or preservatives.
Source of Ingredients
One of the key selling points of Purina Beyond is the traceability of the ingredients they use in their cat food. They are committed to sourcing their ingredients mainly from the United States.
However, some vitamins and minerals might be sourced from other countries to ensure the desired quality levels.
Nutritional Analysis
Purina Beyond cat food provides a balanced mix of essential nutrients for your cat's overall well-being. Here's a breakdown of the macronutrient content:
Protein content – offers a varying blend of proteins depending on the recipe; contributes to strong muscles and supports overall health
Carbohydrates – focuses on limited carbohydrate content (such as rice) to help maintain a healthy weight and stabilize metabolism
Fat – supplies energy and supports healthy skin and coat
Fiber – ensures proper digestive health and bowel movements
Moisture – keeps your cat hydrated and facilitates nutrient absorption
In addition to the macronutrient breakdown, Purina Beyond cat food is fortified with essential vitamins and minerals to promote overall health and well-being.
Remember, when choosing cat food, it's crucial to find one that meets your cat's specific needs and preferences. Purina Beyond's focus on natural ingredients and high-quality nutrition makes it a solid choice for many cat owners.
Product Variety
Range of Flavors
When it comes to flavors, Purina Beyond offers a wide variety to please even the pickiest of feline palates.
With options like chicken, salmon, beef, and turkey, your cat will never tire of mealtime.
Try rotating between different flavors to keep things interesting for both you and your furry friend.
Available on platforms like Amazon and Chewy, it's easy to find the perfect flavor for your cat.
Available Sizes and Forms
Purina Beyond cat food comes in various sizes and forms to accommodate your cat's preferences and your shopping convenience. For instance, you can purchase:
Dry cat food – available in different bag sizes; perfect for free-feeding
Wet cat food – sold in cans or pouches for portion control and hydration support
You can find Purina Beyond cat food on popular online retailers like Amazon and Chewy, making it easy to stock up on the sizes and forms that meet your cat's nutritional needs.
Suitability for Different Cat Ages and Health Conditions
Purina Beyond understands that cats have specific dietary requirements depending on their age and health condition.
That's why they offer options to cater to your cat's unique needs:
Kitten formula – tailored to support growth and development
Adult formula – balanced for overall health and maintenance
Senior formula – addressing the nutritional needs of aging cats
Additionally, Purina Beyond offers grain-free options to support cats with food sensitivities or allergies. By choosing Purina Beyond, you can be confident in finding the best formula for every stage of your cat's life.
Comparison with Other Leading Brands
When comparing Purina Beyond cat food to other leading brands, you'll notice some differences in the ingredients and quality of the products.
Many premium cat food companies prioritize using high-quality ingredients, just like Purina Beyond does.
Purina Beyond emphasizes grain-free, filler-free, and natural ingredients in their recipes.
This is a standout feature which you might appreciate, as other popular brands may still include grains such as whole brown rice or wheat.
Ingredient Comparison
The main focus of their recipes is centered around real meat, fish, or poultry, which are essential sources of protein for your cat's overall health.
In addition, Purina Beyond doesn't include any artificial colors, preservatives, or flavors in their products.
Purina Beyond also stands out for their grain-free recipes. Many other leading brands might still use grains like whole brown rice as a source of carbohydrates.
If your cat has a sensitive stomach or you prefer a grain-free diet for them, Purina Beyond is an excellent choice.
Here are some key ingredient comparisons between Purina Beyond and other leading brands:
| Feature/Ingredient | Purina Beyond | Other Leading Brands |
| --- | --- | --- |
| Quality of Ingredients | High-quality | May vary |
| Grain-free Options | Yes | May or may not offer |
| Filler-free | Yes | May or may not offer |
| Natural Ingredients | Yes | May or may not offer |
| Primary Protein Sources | Real meat, fish, or poultry | May use lower-quality protein sources or by-products |
| Artificial Additives | No | May or may not include |
| Common Fillers | No | May include |
| Price | Premium Price | Price varies depends on the quality |
| Variety | Not specified | Not specified |
Protein sources: Purina Beyond uses real meat, fish, or poultry, while other brands might use lower-quality protein sources or by-products.
Grain-free options: Purina Beyond offers grain-free recipes, which is a plus if your cat has a grain sensitivity or you simply prefer a grain-free diet for them.
Fillers: Purina Beyond avoids the use of fillers like wheat, corn, or soy, while some other leading brands may still include these inexpensive ingredients in their recipes.
In conclusion, Purina Beyond cat food stands up well against its competitors in terms of ingredient quality, price, and variety.
By choosing Purina Beyond, you're ensuring that your cat receives the essential nutrients they need to thrive in a grain-free, filler-free, and natural diet.
Price Comparison with Other Brands
Let's take a look at how Purina Beyond stacks up against other brands in terms of price.
For example, an 11-pound bag of Purina Beyond typically costs around $30, while Natural Balance Limited Ingredient Dry Cat Food is about the same price for a 10-pound bag.
However, it's essential to keep in mind each brand's differing ingredients and quality to make an accurate comparison.
When evaluating the price of Purina Beyond, remember to weigh it against the benefits it offers concerning natural ingredients and potentially improved nutritional value.
While it's ultimately up to you to decide what's best for your cat, considering the price alongside ingredient quality and your pet's needs can help make an informed decision.
Check Best Price For Purina Beyond
External Verification
Certifications
The Purina Beyond cat food holds specific certifications to assure you of its safety and quality.
It's made with natural ingredients that are traceable and emphasize on sustainability.
This commitment to holistic safety and well-being for your cat is something you can trust.
Expert Reviews
Various expert websites have reviewed Purina Beyond cat food and provide insights into its quality, pros, and cons.
According to Cats.com, the overall score is 6.8/10 with a rating of 41 out of 60, translating to a B- grade.
FelineLiving.net emphasizes the importance of a high-quality diet for your cat's health and mentions the growing interest in Purina Beyond.
The Daily Cat highlights the use of natural probiotics and earth-friendly manufacturing practices employed by Purina Beyond, adding another layer of assurance for the product.
Expert Opinions
Expert opinions on Purina Beyond cat food seem to be positive, giving you confidence in the safety and quality of the product.
Purina, the parent company, has been in the pet food industry for nearly a century, as mentioned by a Purina Beyond review on Chewy.
The Spruce Pets adds that their grain-free cat food option is considered a well-balanced diet for cats with specific dietary concerns.
In conclusion, Purina Beyond cat food appears to be a reliable and safe option for your feline companion. With certifications, positive expert reviews, and expert opinions, you can make an informed decision based on the available data. So, consider giving Purina Beyond cat food a try for your cat's health and well-being.
Recommendations
We know you care deeply about your feline friend's health, so let's have a look at some highly-rated options from Purina Beyond Cat Food to help make your decision a little easier. Remember, we're here to assist you in making the most informed decisions for your cat's nutrition.
First up, Purina Beyond Grain Free, Natural Pate Wet Cat Food has been highly praised among cat owners for its high protein content, as well as using real meat as the first ingredient. Not only that, but it also includes some freeze-dried raw meat to provide an extra boost. It's an excellent option if you're looking for a premium wet cat food:
High in protein
Named meat as the first ingredient
Includes raw meat
Free from grains
Check Best Price
Additionally, the Purina Beyond Grain Free, Natural Dry Cat Food, Simply Grain Free Wild Caught Whitefish has received positive feedback for its tasty yet nutritious composition. If your cat has sensitivities to grains, this might be the perfect option to try:
Nutritious and grain-free
Tasty, appealing to even picky eaters
Check Best Price
When choosing the best option for your feline friend, keep in mind the individual needs of your cat, such as dietary restrictions or taste preferences. Purina Beyond offers a variety of options that cater to both.
Now, you have a few recommendations that can guide you in selecting the ideal Purina Beyond Cat Food for your furry companion. Happy feeding!
Frequently Asked Questions
Is Purina Beyond cat food healthy?
Yes, Purina Beyond cat food is considered to be healthy for your feline friend. It emphasizes natural ingredients and essential minerals, making it a well-balanced option. Purina Beyond also follows strict quality control measures, with in-house nutritionists overseeing the formula.
What are the main ingredients?
The main ingredients of Purina Beyond cat food depend on the specific product line you choose. But generally, it contains natural ingredients such as real meat or fish, which are often the primary sources of protein. You can also expect to find essential minerals and added vitamins to support your cat's overall health.
What are customers saying on Reddit?
Reddit users generally have mixed opinions about Purina Beyond cat food. Some users praise it for the natural ingredients and positive changes they've seen in their cat's overall health. Others may have concerns about the brand's history, while some simply find that their cat doesn't like the taste. It's always important to remember that every cat is different, and what works for one may not be suitable for all.
How does the wet food variety compare?
Purina Beyond wet cat food tends to receive positive reviews overall. In particular, the pate recipe is highly rated, receiving a 4-star rating by Cat Food Advisor. Customers appreciate the use of natural ingredients and added vitamins, minerals, and nutrients in the wet food variety.
Where can I purchase Purina Beyond cat food?
You can purchase Purina Beyond cat food at various pet stores, supermarkets, and online retailers, such as Chewy or Amazon. Make sure to compare prices and take advantage of available discounts to get the best deal.
Has Purina Beyond been discontinued?
As of now, Purina Beyond cat food has not been discontinued. However, it's always a good idea to keep an eye on the company's website or social media channels for any updates or changes in product lines.