Tiki Cat has gained a reputation for being a distinctly carnivore-friendly cat food brand, raising the question of whether it's a wholesome and safe option for our feline companions.
In our impartial examination of Tiki Cat, we'll explore various aspects of this popular cat food, including its manufacturing plant specifically designed for the production of raw meat products, and help you determine if it's the ideal choice for your pet.
Throughout our research on Tiki Cat, we'll delve into its origin, production, recall history, and product variety.
We'll also provide a comparison with other brands and discuss customer opinions on Tiki Cat food.
Additionally, we'll analyze some of their top products and address commonly asked questions.
Key Takeaways
Tiki Cat offers a carnivore-appropriate food with a focus on quality ingredients and safety.
The brand provides a variety of cat food options, including unique flavors and textures.
Customer satisfaction and product comparisons indicate Tiki Cat may be a sound choice for cat owners.
Assessing Tiki Cat: The CatAndDogHelp.com Criteria
We've taken a close look at Tiki Cat and assessed it using our unique CatAndDogHelp.com standards.
We judged the brand on the following six key aspects: suitability for feline species, quality of ingredients, range of products, cost, customer feedback, and recall history. Let's see how it performed:
Species Appropriateness – 8/10
Ingredient Quality – 10/10
Product Variety – 8/10
Price – 6/10
Customer Experience – 8/10
Recall History – 10/10
With an overall score of 8.5/10.
Introduction to Tiki Cat
Tiki Cat is a brand that belongs to Petropics, a company created by Christine and Robert Hackett.
With an extensive experience in pet food research and development, Christine observed the issues and opportunities in the industry.
Establishing their pet food company in 2005, they focused on low-carbohydrate recipes, including some that contain purely meat and supplements.
This unique approach has earned Tiki Cat a loyal following.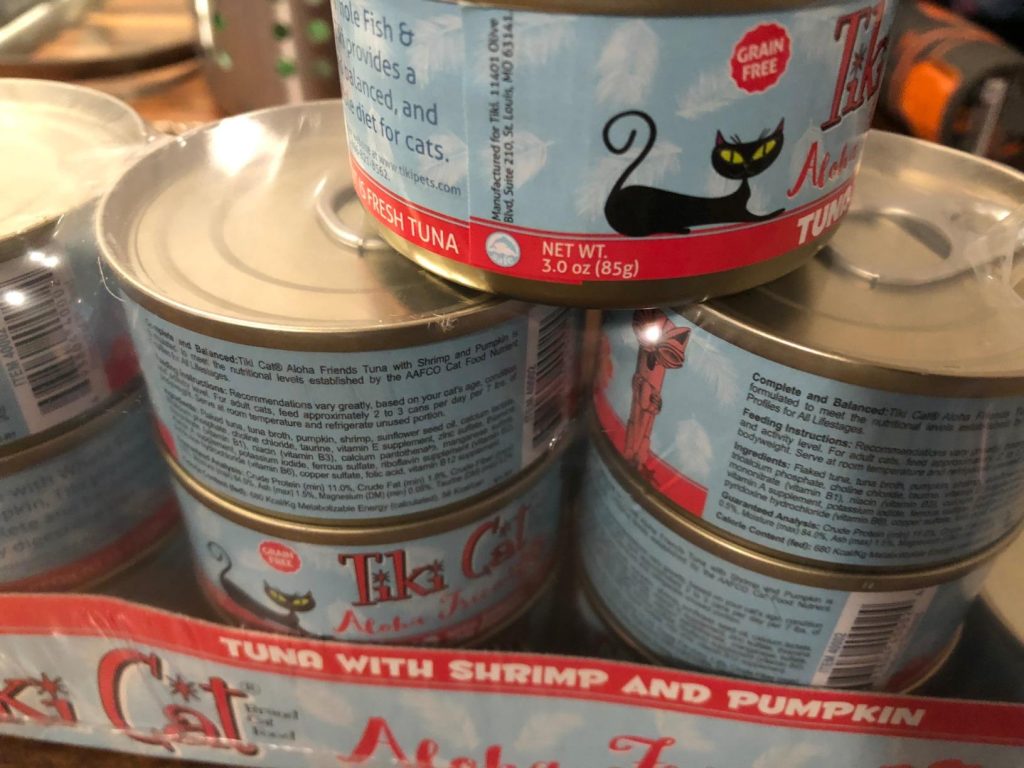 Since 2015, Tiki Cat has been under the umbrella of Whitebridge Pet Brands, which was formed by the merger of Cloud Star and Tiki Pet.
This group also includes well-known brands like Dogswell, Catswell, and Buddy Biscuits. We believe that by offering a wide range of options, we cater to the evolving preferences and dietary needs of our beloved pets.
With our more health-conscious recipes, we strive to make a positive impact in the pet food industry.
Origin and Production
Tiki Cat products are crafted in Thailand at their first-class, human-grade canning plants.
These facilities comply with international standards, ensuring top-notch quality for both people and pets.
They prioritize using locally sourced ingredients, including fish from nearby Thai waters.
Their fish suppliers are members of the International Seafood Sustainability Foundation (ISSF) and are committed to preserving marine ecosystems.
Also, they hold certification from the International Dolphin Conservation Program, which helps protect dolphins from the harmful effects of tuna fishing.
This way, we can offer a delicious and environmentally responsible choice for your feline friends.
Recall History of Tiki Cat Food
Good news for Tiki Cat Cat Food users! Tiki Cat has never faced a recall.
This is a testament to the brand's commitment to maintaining high-quality and safe products for our furry friends.
Variety of Cat Food by Tiki Cat
Tiki Cat offers a plethora of cat food options, focusing mainly on wet food with canned and pouched recipes.
They also provide a select variety of dry cat food, totaling over 40 different flavors and textures overall.
Here's a breakdown of the ten product lines in Tiki Cat's food range:
After Dark – Wet food combining muscle meat and nutrient-rich organs
Aloha Friends – Wet food featuring chicken or tuna and supplemented with pumpkin
Born Carnivore – A limited collection of baked kibble diets with an average 44% protein content, devoid of potatoes, corn, rice, or wheat
Essentials – Two animal-based dry food recipes made with chicken, turkey, trout, and menhaden fish meal
Grill – Wet food containing fish-based proteins and garnished with shellfish like shrimp and prawns
Luau – Canned food primarily made with shredded chicken and flaked fish such as wild salmon and ahi tuna
Velvet – Smooth mousses for cats who prefer to lap up their meals
Kitten/Senior – Stage-specific recipes for kittens and senior cats
Special – A limited assortment of mousses aimed at supporting specific health goals (e.g., weight loss, healthy digestion, skin & coat health)
Raw – Five raw food recipes featuring premium animal proteins and bone broth, without any added carbohydrates
All Tiki Cat recipes are free from animal by-products, grains, potatoes, and artificial colors, flavors, and preservatives.
In addition to complete and balanced recipes, Tiki Cat provides a variety of treats and food toppers.
Tiki Cat Broths, Complements, Special, and Velvet food toppers offer an abundance of moisture and natural flavor, as well as a diverse range of fat sources and calories.
As for treats, Tiki Cat has soft and chewy options, crunchy ones, wet treat sticks, and fish fillets.
Comparing Tiki Cat with Other Brands
When it comes to cat food, every feline friend deserves the best options out there. So, how does Tiki Cat measure up against other brands?
Here's a quick rundown of what sets Tiki Cat apart.
| Protein Content | Ingredient Quality | Product Variety | Recall History | Customer Experience |
| --- | --- | --- | --- | --- |
| Tiki Cat's Born Carnivore dry kibble boasts an impressive 44% protein content. Compared to other brands at 40% | Focusing on fish and poultry combinations, Tiki Cat ensures high-quality ingredients in their products. | Good selection of flavors and types of food, including wet, dry, kitten, senior, and even frozen cat food. | Tiki Cat has a 100% recall-free history, suggesting a strong commitment to safety and quality. | Customer experience rating lies at 67%, indicating that there's some room for improvement in terms of customer satisfaction. |
Protein Content: Tiki Cat's Born Carnivore dry kibble boasts an impressive 44% protein content. Compared to other brands at 40%, this makes Tiki Cat a strong contender, especially for our meat-loving cats.
Ingredient Quality: Focusing on fish and poultry combinations, Tiki Cat ensures high-quality ingredients in their products. They even offer wet food options catering to cats with sensitive stomachs, like the Aloha Friends line. However, navigating through their flavor names might get slightly confusing.
Product Variety: Tiki Cat offers a good selection of flavors and types of food, including wet, dry, kitten, senior, and even frozen cat food. While other brands might have more extensive flavor options, Tiki Cat scores well in terms of meeting many cats' dietary needs.
Recall History and Customer Experience: According to Pet Food Sherpa, Tiki Cat has a 100% recall-free history, suggesting a strong commitment to safety and quality.
On the other hand, their customer experience rating lies at 67%, indicating that there's some room for improvement in terms of customer satisfaction.
So, what do we make of Tiki Cat in comparison to other cat food brands, specifically kitten food?
Well, their strong protein content, focus on carnivorous preferences, and variety make them a commendable option for growing cats.
However, there's always some room for improvement, and taste preferences vary among our feline companions.
We encourage you to always research and understand the specific needs of your beloved pet before choosing any brand, including Purina, especially when it comes to kitten food.
What Do Customers Think of Tiki Cat Food?
Some Positive Feedback
Many customers have praised Tiki Cat food for its low carbohydrate content and simple recipes. Cats with sensitivities, such as IBD and diabetes, seem to do particularly well on the Grill and Luau lines.
However, the After Dark line has received mixed reviews.
Here are some examples of positive feedback that we found:
Satisfied customer: One buyer mentioned that their vet recommended Tiki Cat food as part of a raw diet for their cat, Bella. The customer observed improvements in Bella's coat, weight, and odorless poops after incorporating Tiki Cat food into her diet.
Tuna lovers: Another customer shared that their cats loved Tiki Cat's Ahi Tuna variety, which they appreciated for its high-quality ingredients. However, their cats seemed picky about other Tiki Cat flavors.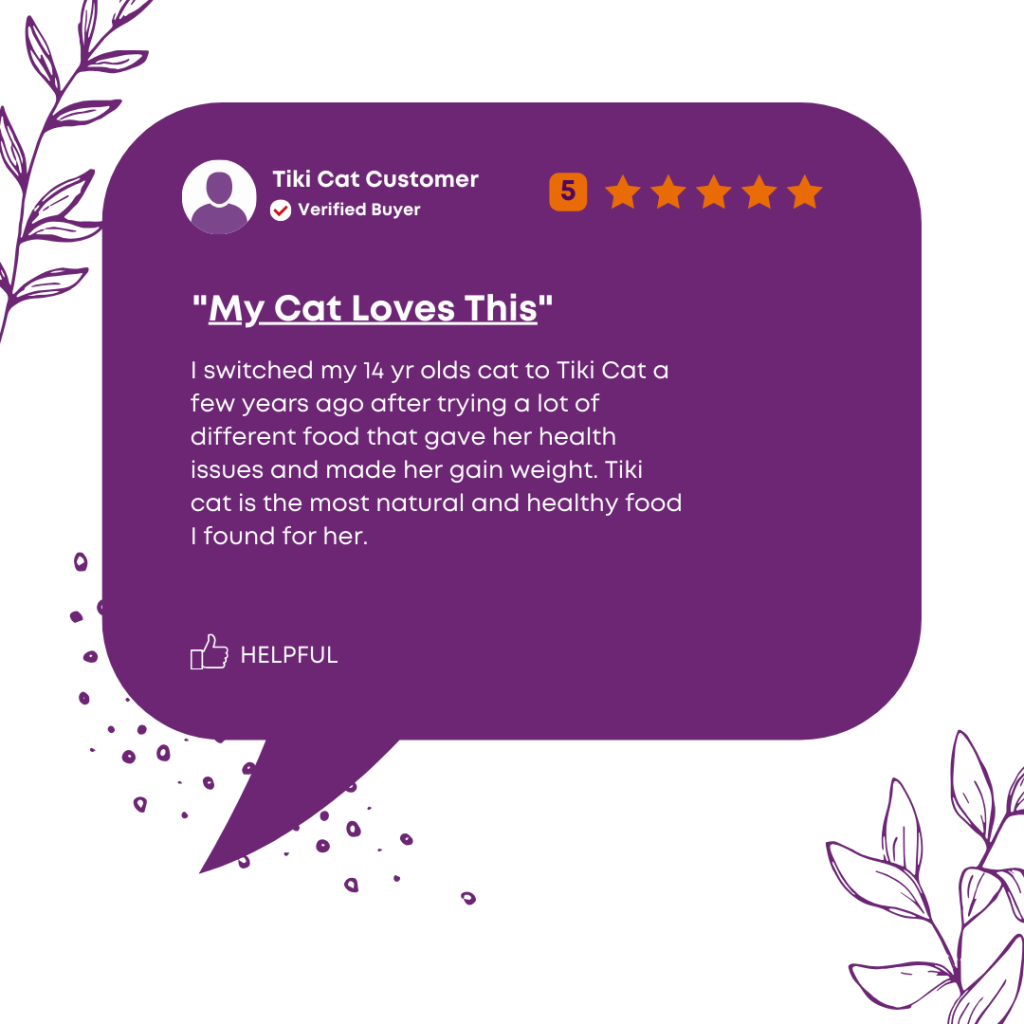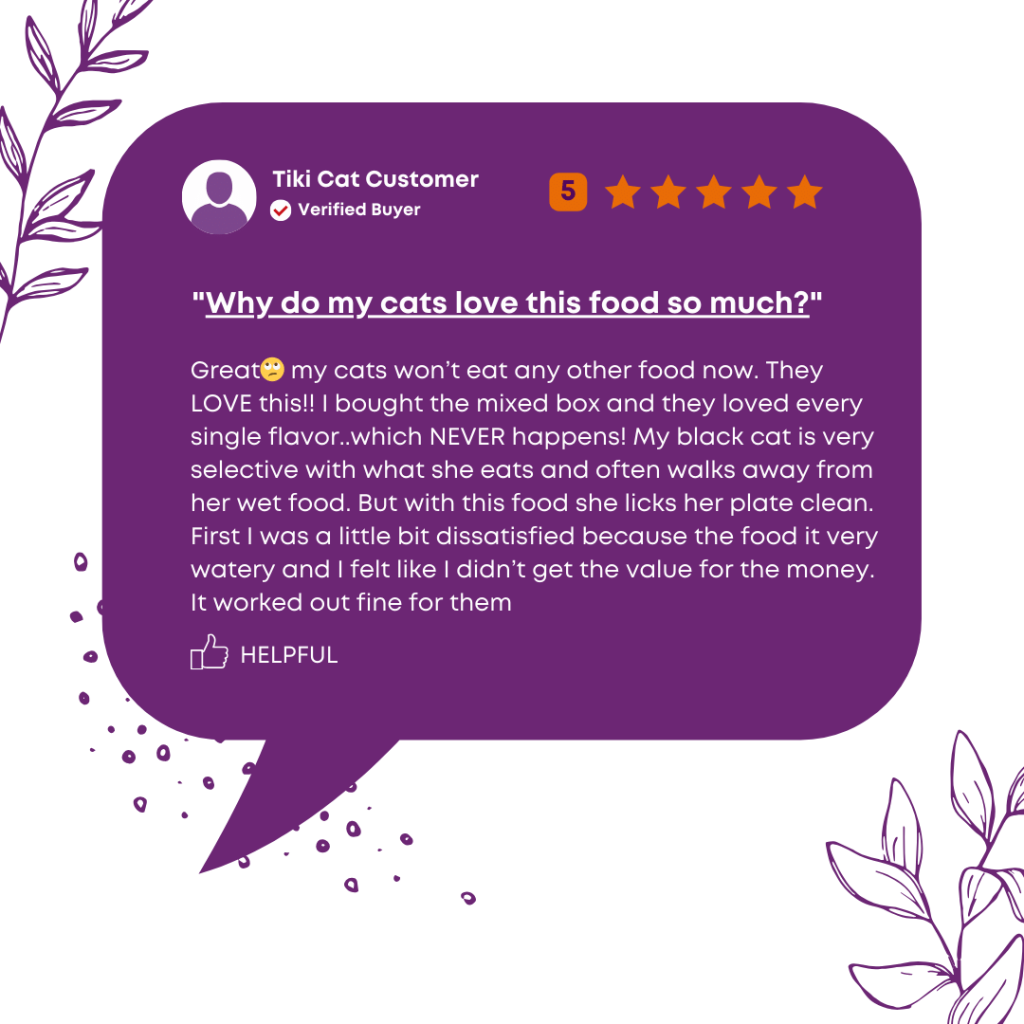 Some Negative Feedback
Despite the generally positive reviews, there have been some issues.
Starting in 2018, a few customers reported finding gray meat in their cans of Tiki Cat food, as mentioned in some negative customer reviews.
The company stated that this discoloration is due to the cooking process and doesn't impact the safety of the food.
It appears that no cats have become sick from eating the discolored product. Here are a couple of negative reviews highlighting this issue:
Gray chicken concerns: A long-time Tiki Cat customer expressed their concern about the recent appearance of gray chicken in some cans. They said this issue started in mid-2018 and hadn't been a problem during the previous two years.
Mold/graying meat: Another customer, who had been buying the brand for over five years, reported receiving three cases from an online purchase with mold or graying meat on top. The customer appreciated the swift refund from the online seller but decided not to purchase Tiki Cat food online in the future.
There were other negative reviews related to the price factor, for example: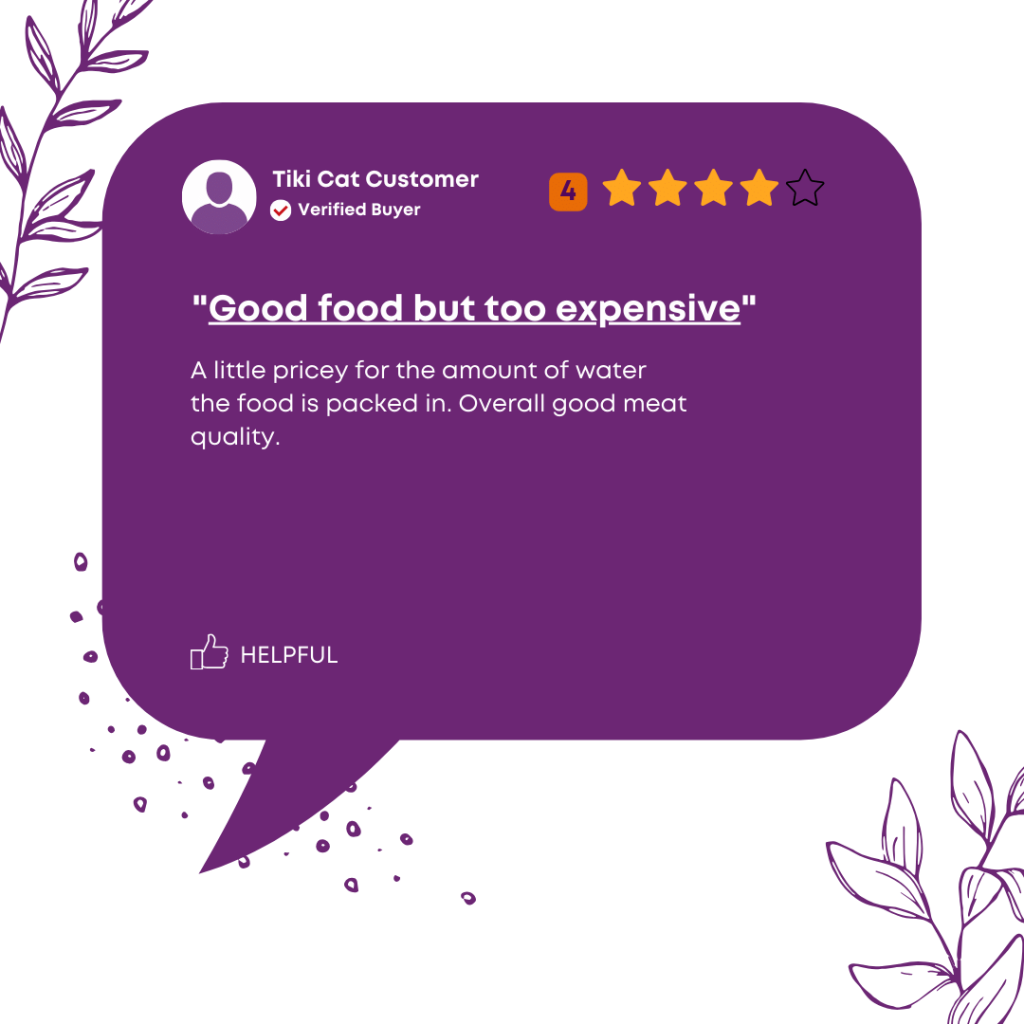 Top 5 Tiki Cat Products Analyzed
We've examined the best Tiki Cat products available, and here are our top five picks:
#1 – Tiki Cat Velvet Mousse Variety Pack
These 2.8 oz. pouches come in packs of 12. It's complete nutrition for a balanced diet and suitable for cats in all life stages.
Check Best Price

Pros:
Soft, mousse-like texture
Cats love the taste and texture
High-quality ingredients
Variety of flavors available
Suitable for senior cats or cats with dental issues
Provides hydration when mixed with water
Trusted brand by many cat owners
Cons:
Difficulty in dispensing product from packaging
Texture inconsistency in different batches
Limited availability in stores
Potentially strong smell
May significantly increase monthly pet food budget
Most Important Ingredients:
The specific ingredients are not mentioned in the reviews, but the mention of high-quality ingredients and the brand being trustworthy suggests the inclusion of real meat and a lack of fillers.
Food Form: Mousse-like, soft, and smooth texture.
Recommended Life Stage:
Given the soft texture and the reviews mentioning its suitability for senior cats and cats with dental issues, it seems best suited for senior cats or cats that require softer food.
Based on the reviews, this product seems highly recommended for older cats or those with special dietary needs due to its soft texture and high-quality ingredients.
However, potential buyers should be aware of the possible packaging issues and the higher price point.
#2 – Tiki Cat Born Carnivore Chicken & Egg
This 5.6 lbs. bag of grain-free, high-protein baked kibble is made with deboned chicken and egg to maximize nutrients for your cat.
Check Best Price
Pros:
High-quality ingredients.
No history of product recalls.
Promotes healthy weight.
Improves coat quality.
Well-loved by cats.
Supports energy levels.
Impressive longevity and brand trust.
Cons:
May not be suitable for older cats with dental issues.
Pungent odor when out.
More expensive option.
May need time for cats to adjust.
Transition from other foods can be tricky.
Most Important Ingredients:
De-boned Chicken
Chicken Meal
High Protein Content
Omega 3 & 6 Fatty Acids
Food Form: Dry Kibble
Lifestage Recommendation:
This cat food seems most suitable for adult cats, given the high protein content and the positive reviews from owners of cats in the 3 to 4 years and older range. However, its hardness might not be suitable for senior cats, especially those with dental issues.
#3 – Tiki Cat Luau Wet Cat Food Variety Pack
This pack includes 8 cans of 6 oz. wet cat food, offering your cat a delicious variety of Luau flavors.
Check Best Price
Pros:
Improves Cat's Health: Customers have noticed an overall improvement in their cat's health and well-being.
High-Quality Ingredients: The food consists of real chunks of meat and fish, ensuring nutritional value.
Grain-Free Formula: No grains are used, which is beneficial for cats with specific dietary needs.
No Artificial Additives: The food is made without any artificial additives or fillers.
Maintains Healthy Weight: Cats have maintained a healthy weight since switching to this food.
Enhances Coat Quality: The product makes cats' coats shinier and softer.
Increased Energy Levels: Cats are reported to be more playful and active.
Cons:
May Be Too Rich: Some cats may find the food too rich, leading to gastrointestinal issues.
Expensive: Customers have mentioned the high price point of the product.
Some Flavors are Unpopular: Not all cats like every flavor, and some flavors are less appreciated by owners.
Inconsistent Attraction: Even within households, not all cats are attracted to the food.
Limited Lifestage Recommendation: It might not be suitable for cats of all ages, particularly very young or very old cats.
Most Important Ingredients:
Ahi Tuna
Chicken
Wild Salmon
Egg
Food Form: Wet/Canned Food
Recommended Lifestage:
This cat food seems to be more suited for adult cats, given the high-quality ingredients, the need for a well-maintained weight, and the improvement in coat quality.
However, due to the rich formula, it might not be suitable for all adult cats, particularly those with sensitive stomachs or specific dietary needs.
#4 – Tiki Cat Born Carnivore Complements Chicken Blends Variety Pack
Comes in packs of 10 cups, each 2.1 oz. It's a high-moisture, high-protein wet cat food topper to enhance your cat's meals.
Check Best Price
Pros:
Real Meat Content: Packed with real meat, ensuring high protein levels.
Variety of Flavors: Offers a variety of nutrients and excitement at each meal.
Hydration Support: Broth-based, aiding in cat hydration.
Limited Ingredients: Simple and natural ingredients for cats' wellness.
Versatile Use: Can be used as a topper or individual treat.
High-Quality Brand: Tiki Cat is recognized for its quality and positive reviews.
Positive Impact on Health: Helps in managing conditions like diabetes and weight.
Cons:
Strong Odor: Some find the product's smell unpleasant.
Pricey: Considered expensive by some, especially for multiple cats.
Large Shreds: Some cats might find it hard to eat; requires additional slicing.
Potential Overexcitement: May cause early morning wake-ups for feeding.
Most Important Ingredients:
Real Shredded Chicken: The primary source of protein.
Savory Chicken Broth: Adds moisture and enhances flavor.
Variety of Meat Options: Including duck, beef, egg, and salmon for diverse nutrients.
Food Form:
Wet Food Toppers: Shredded meat in broth, served in small packages.
Recommended Lifestage:
Given its high protein content, variety of meat options, and moisture content, this product is suitable for adult cats.
Adult cats can greatly benefit from the additional hydration and protein, supporting overall health and managing conditions like diabetes.
However, due to the large shreds, it might not be the best option for kittens or senior cats with dental issues.
The variety and high quality of ingredients also make it an excellent choice for cats with specific dietary needs or those prone to hydration issues.
#5 – Tiki Cat Born Carnivore Broths Chicken
Available in 1.3 oz. pouches in packs of 12. These broths add flavor and hydration to your cat's food as a tasty supplement.
Check Best Price
Pros:
Enhances Hydration: Adds necessary moisture to cat's diet.
Real Ingredients: Made with real chicken and fish extract.
Portion Control: Single-serve pouches for convenience.
Versatile Use: Can be a treat or meal topper.
High Palatability: Cats seem to love the taste.
Limited Ingredients: Fewer ingredients, less chance for allergies.
Quick to Serve: Easy and convenient for busy pet parents.
Cons:
Expensive: Higher cost for small portions.
Solid Bits Stick: Some food gets stuck inside the pouch.
Limited Broth: Not as much broth as some cats would prefer.
Not a Full Meal: Only a supplement or treat, not complete nutrition.
Large Meat Chunks: Might need to break them apart for some cats.
Most Important Ingredients: Chicken broth, chicken, and fish extract.
Food Form: Broth with meaty bites, served in pouches.
Recommended Lifestage:
Given the product description and reviews, this food seems most suitable for adult cats, particularly those needing increased hydration or enticement to eat.
However, it should be noted that this product is intended as a supplement or treat, not as a complete meal.
We've ensured the information is concise and engaging, so you can make an informed decision for your cat's dietary needs. Utilize this handy list to keep your cat healthy and satisfied!
How Much Does Tiki Cat Cost?
Tiki Cat isn't exactly a budget-friendly option, but it offers good value for the quality it provides.
Wet food options usually cost between $0.35 and $0.55 per ounce, putting daily expenses for a 10-pound cat between $2.96 and $5.00.
For those who prefer dry food, Tiki Cat Born Carnivore comes in lower and costs about $0.50 per day. Quite wallet-friendly compared to wet food options, isn't it?
When comparing it to other premium brands such as Koha, Hound & Gatos, and even our beloved Ziwi Peak, Tiki Cat's products are moderately priced, fitting in nicely in the market of high-quality cat food.
Is Tiki Cat the Right Choice for Our Feline Friends?
Tiki Cat's wet food options are known to be some of the most protein-rich and low-carb products out there, making them a top choice for cats with health conditions like diabetes or IBD.
Their After Dark line, especially, offers a balanced diet with a mix of muscle meat and organs full of animal-sourced nutrients.
While dry foods in general are not ideal due to their high carbohydrate content and lack of moisture, Tiki Cat's dry food options are a cut above the rest.
They have significantly higher meat content and lower carbs compared to the average kibble.
With a solid nutrition profile and no recall history, we can trust Tiki Cat as a reliable brand for our beloved cats.
However, it does come with a drawback – the cost.
Feeding your cat one of their wet recipes can amount to nearly $5 per day, and households with multiple cats or larger, more active cats will spend even more.
All things considered, Tiki Cat's range of high-quality, nutritious food options are worth considering for our pets' well-being, while keeping the budget constraint in mind.
Where To Buy Tiki Cat?
You can find Tiki Cat at independent pet stores and chains near you using their store locator.
For online shopping, check out PetSmart, Petco, Chewy, Amazon, Walmart, and other retailers that offer cat food.
Frequently Asked Questions: Tiki Cat Food Reviews
Is Tiki Cat food appropriate for little felines?
Although Tiki Cat food is often recognized for its quality ingredients, it's crucial to check the recommended age on your Tiki Cat food products. Some varieties may be more suitable for kittens than others. Additionally, it's important to consult your veterinarian before introducing any new food to your kitten's diet.
Top Tiki Cat wet food picks
When considering wet food options from Tiki Cat, several excellent choices come to mind. These include poultry and fish combinations, along with high protein choices for cats needing to maintain a healthy weight. Keep in mind that each cat may have different preferences, and it's essential to find a balanced diet for your cat's specific needs. Additionally, Tiki Cat wet food options often include salmon oil and sunflower oil as sources of animal-based omega-3s, making it a top choice for cat owners looking for a high-quality diet for their feline companions.
Opinions on Tiki Cat food from Reddit users
Reddit users often share their experiences with Tiki Cat food, and many report favorable outcomes. Some cat owners mention that their cats enjoy the taste and texture of Tiki Cat food, while others appreciate the high-quality ingredients and minimal fillers. However, it's always wise to remember that each cat has individual preferences and nutritional requirements.
Key components of Tiki Cat wet food
Tiki Cat wet food is known for its high-quality ingredients and focus on nutritious meals. Main ingredients include real meat sources, such as chicken or fish, and often combine various proteins to provide a well-rounded diet with the first ingredient being a high-quality protein. It's essential to always check the label for a full list of ingredients, including essential nutrients, and consult your veterinarian if you have any concerns about your cat's diet.
Exploring Tiki Cat treats
Tiki Cat offers a variety of treats to complement their range of cat food options. As with their food, the treats often feature high-quality ingredients and focus on providing wholesome nutrition for your furry friend. It's definitely worth exploring Tiki Cat treats, some of the best cat food options available in the market today, to see if they suit your cat's tastes and dietary needs.
Ownership of Tiki Cat food brand
Tiki Cat food is not owned by any of the major pet food companies. This allows the brand to maintain its focus on high-quality, all-natural ingredients, and prioritize the well-being and nutritional needs of your feline companion.